APPLICATION OF AUTOMATIC CHECK-IN KIOSK
To earn customer loyalty, it is important to provide them with positive and memorable experiences using your business services. And automated check-in kiosks are the perfect way to personalize interactions with each customer, making customers happy
Studies have shown that two-thirds of customers will choose self-service, rather than the usual interaction with the front desk. This is not surprising in an age of consumers who see technology as a time saver and simple communication. Along with that, check-in kiosks can have different language settings, so international customers will have an easier time checking in. A simple, personalized process increases guest satisfaction.
Using an automated check-in kiosk in a property does not replace face-to-face interactions, but it can provide a better customer experience. This is proof that technology brings a lot of benefits to both businesses and the customers who use it. Automated check-in kiosks can reduce waiting time, minimize human error, and collect information about each customer to provide a tailored experience for each individual.
1. Kiosk check-in and print tickets at the airport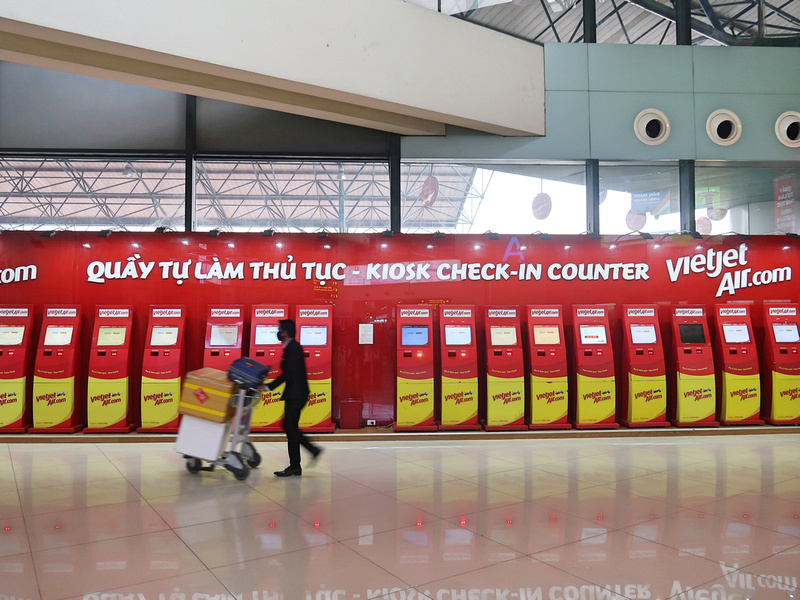 Alta Media provides automatic check-in kiosks for Vietjet Air
Self-check-in kiosks are for airline passengers with e-tickets who want to check in without waiting. Using the check-in kiosk, passengers can choose their seats, check in and print their boarding passes hours before departure. They can also use the kiosk in the last minutes before their flight instead of having to wait in long lines at the check-in desk when time is running out.
The reduction of waiting time, quick check-in will be highly appreciated by customers, and consider using the service of that airline again. Kiosk check-in is increasingly popular with passengers thanks to its convenience and initiative for passengers and reducing the risk of Covid-19 infection due to direct contact.
The check-in kiosk acts as an alternative to the usual front desk service. By automating the check-in process, you can avoid many mistakes such as misspelled names, wrong rooms, special requests, etc., and improve the way you interact with customers in a more personalized way. Self-check-in kiosks can accurately record customer data, as guests enter information themselves at check-in.
This data is saved when the customer comes to check in next time. In addition, this stored information can be used to email promotional messages, including attractive offers tailored to the tastes of each customer.
3. Medical Kiosk at the hospital, clinic/strong>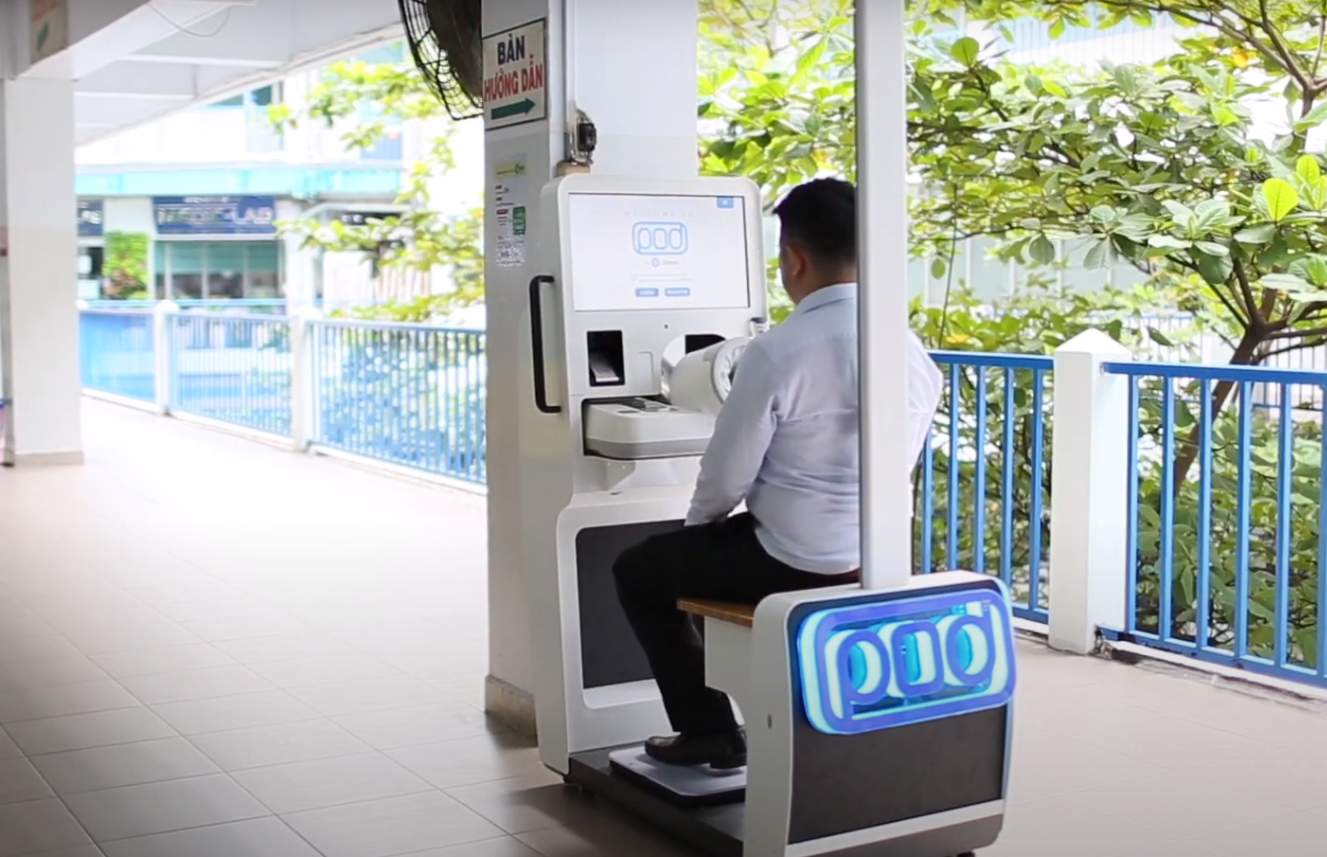 Automated health diagnosis kiosk at the hospital
Designed to relieve pressure on healthcare workers, kiosks reduce waiting for lines. Self-check-in kiosks can streamline many administrative activities in a hospital, especially patient admission. This is a solution to promote patient satisfaction and improve the operational efficiency of medical facilities.
With the medical kiosk, patients can quickly look up information about the procedure, look up medical records, register for online medical examination, and find their way to the desired departments and clinics. Some kiosks also integrate checking of basic metrics. These kiosks sync with personal electronic medical records to create a more seamless and efficient medical experience.
4. Kiosk access control for events, amusement parks…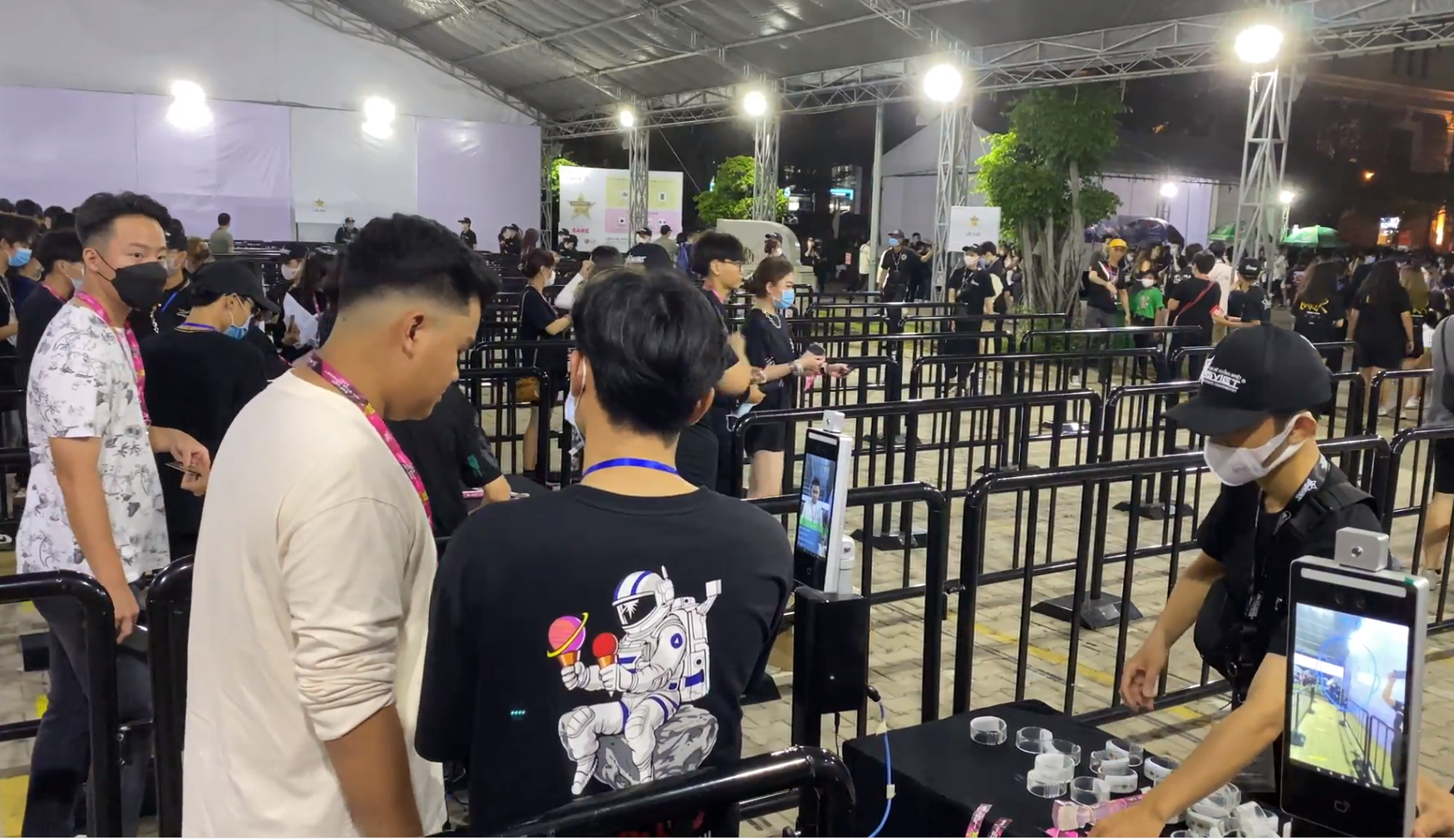 Security control kiosk at Live concert RapViet All-stars
Security control for events, amusement parks or any other area is no longer dependent on personnel with the help of an access control kiosk. The kiosk can be equipped with a magnetic card or biometric reader to grant access to customers. In addition, it is possible to equip additional ticket printers on site for new registrants.
Alta Media's smart check-in kiosk
Automated check-in kiosks are not always a substitute for traditional services, but if you want to enhance the customer experience, then consider Alta Media's Smart Check-in Kiosk Solution. Provides an easy-to-use, self-service interface that eliminates the discomforts of face-to-face contact, providing a more convenient and secure personalized experience. The Kiosk interface is fully customizable with your brand's logo and images, plus a wide choice of languages.
Please let us know if you have any questions. Leave information here or contact directly:
Mr. Tai Hoang- 0933 802 408

Mr. Tu Hoang - 0903 045 711

Ms. Khue Tran - 0902 468 830
See more about our products and services.