SAVE TIME WITH AUTOMATIC CHECK-IN KIOSK
Digital transformation in the airline industry has been challenging to improve customer experience and reduce wait times. The use of new technology, such as automated check-in with self-service check-in kiosks, allows for a better passenger experience by reducing congestion and saving time compared to checking in. directly at the counter.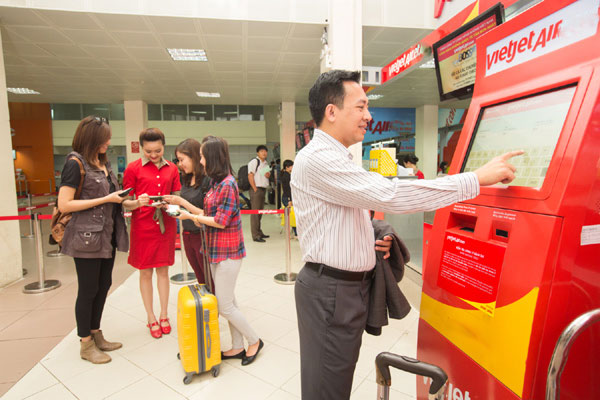 Alta Media provides automatic check-in kiosks for Vietjet Air
How was your flying experience? Is the wait time at check-in, through security, and finally waiting in line to board the plane that is often longer than the flight time? Waiting makes a business or travel trip exhausting and dampens the initial excitement.
On holidays, Tet or at major airports, the traditional check-in counters with service staff are always extremely busy and congested. Alta Media's automated check-in kiosks will be a safe and easy-to-use solution that will shorten wait times, reduce congestion at check-in counters, and improve customer experience.
Kiosk check-in: register faster, passengers happier

This is a touch device that allows passengers to check-in automatically. Passengers can go directly to the boarding area after receiving their boarding passes. Kiosk check-in can be done through a PNR (reservation number), e-ticket, boarding pass, or passport. For frequent flyers, business travelers who tend to travel with little luggage, this will be their first choice next to online check-in, because of the time-saving advantage, allow them more time and enjoy their journey.
In some cases where passengers are unable to complete the booking process, accessing online services, self-check-in kiosks will be a great additional solution. It is always there and ready to serve customers. Our check-in kiosks allow:
Check in and print your boarding pass.

Select or change seats.

Wait for a seat in the premium cabin.

Change flights to go for the day.

Find alternative flights if the original flight is delayed or canceled.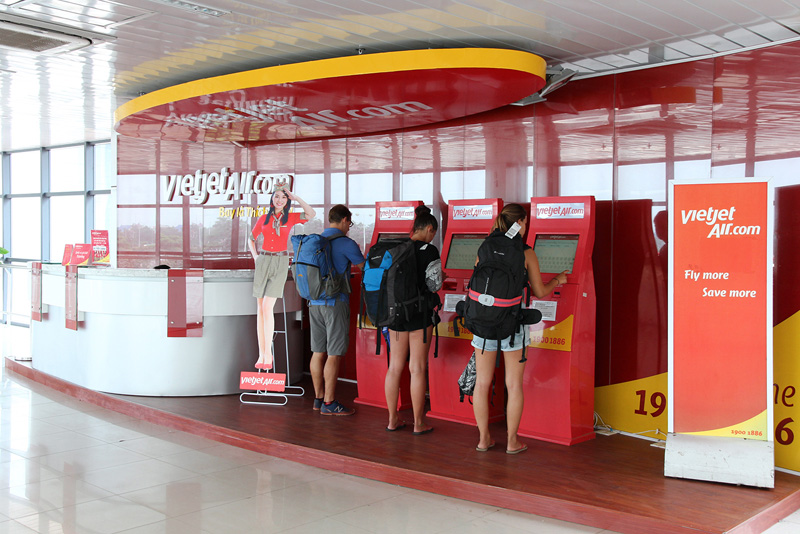 Simple on-screen instructions guide passengers through check-in with an intuitive interface and LEDs that specifically instruct users what to do, such as were to scan their passports and print baggage tags. Lights around the kiosk indicate status, so staff can easily see if passengers need assistance. All of this makes for a quick and positive passenger experience.
Payment for ancillary services such as excess baggage is usually in a different area than the check-in area. You can now register and pay instantly at the kiosk, using the built-in payment terminal. This is faster and more convenient for passengers and helps to reduce any lost costs that could be caused by human error.
Convenience for airline staff
It is not only convenient for passengers but also airline staff. Because passengers do not have to wait in long lines at the ticket counter and can check-in conveniently, airline staff also reduce the burden of check-in and other information related to passengers traveling on other flights together.
Check-in kiosks require less space in terminals than check-in counters, which is useful if space is limited in airports with increasing passenger numbers.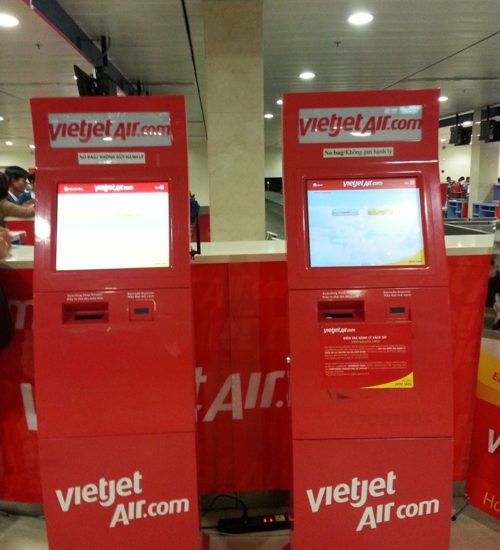 Alta Media is a reputable and quality automatic check-in kiosk system supplier. Check-in Kiosk was born from the idea of ​​proposing a solution to apply advanced technology and provide an alternative to traditional check-in counters at large airport systems with high passenger traffic. An all-in-one solution that aims to make management and operation simple, fast and efficient as well as to optimize the promotion of marketing campaigns and offers of airlines.
Let us find the right solutions for your organization. Contact now:
Mr. Tai Hoang - 0933 802 408

Mr. Tu Hoang - 0903 045 711

Ms. Khue Tran - 0902 468 830
Or leave information here.
See more about our products and services.